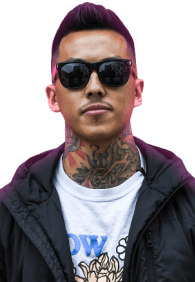 Rich Khun
Founder of Hustle Ninjas
I'm a full time online entrepreneur. I started my career out as a graphic designer in 2004 creating nightclub ads, promotional art, billboard designs, business cards, and everything in between. As time went on, I later realized that I was more than just a designer. Eventually, I got into apparel where I took my career to new heights. As of 2022, I've spent the last 7 years in this apparel and promo goods decorating industry. I started to share my knowledge and experiences through my YouTube channel, Hustle Ninjas, where I've now helped over 140,000 individuals get their business started!
16 min 24 seconds
6 lessons
What you'll learn
Where to Sell
Marketing
Niches
Selling on Shopify
Selling on Etsy
Reviews
I'm just starting with pod and I saw Rich's channel on youtube and found he has this course here. It's a great instructor and I'm really happy of what I've learned.
In addition to these classes, I've watched several of Rich's tutorials on Youtube. Hand's down they have all been extremely helpful in guiding me in the right direction. I encourage anyone getting into the t-shirt business to watch his videos.
Print on Demand Starter Guide
Rich breaks down print on demand to the basics. This mini-course is perfect for you if you're still not too sure what print on demand is and how to start. Find out how this Hustle Ninja has helped thousands of entrepreneurs succeed in the POD industry!
7 Videos (16 min 24 seconds)
If you enjoyed Rich's short course, you can visit his site to
sign up for his coaching program, T-Shirt Seller Pro
Full Course
Monthly coaching
In this coaching program:
Starting and scaling a online t-shirt business​
Step by step video course showcasing how to find highly successful t-shirt designs that you should be selling.
Print-on-demand - If you do not have printing equipment, you can still start an online t-shirt business without the hassle of fulfilling orders yourself.
Adobe Photoshop & Illustrator t-shirt design course
Other methods of designing and getting t-shirt designs without any design skills
Learn how to dominate a marketplace without buying ads
SVGs passive income method
Shopify + Facebook Ads
Get Access to a PRIVATE Facebook Group to collaborate with other successful students!
Monthly Group Zoom Coaching Call Monthly Giveaway
Become a Masters Academy
instructor
Help POD merchants by sharing your existing or newly created course preview.
Drive traffic to your courses and channel after the course ends. Submit your application today!
A team member will schedule a call and explain the quick onboarding form.
Become an Instructor