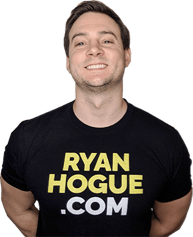 Ryan Hogue
Founder of Ryan's Passive Income School
Ryan runs a YouTube channel dedicated to showing people his complimentary approach to earning passive income online that he dubbed "Ryan's Method". Ryan formerly worked as a full-time web developer & adjunct professor, but was eventually able to replace his income & quit both jobs by running his e-commerce businesses.
What you'll learn
How to optimize thumbnails for clicks
All about best-selling styles
An introduction to Photoshop
Reviews
I follow Ryan on youtube and I decided to buy his course here, it totally worth it.
Out of all 3 available this was the easiest to listen to and most knowledgeable..that $49 full course is sounding better & better.. Great job Ryan & Thank You for your time & efforts ..!
Design for Success
This course is all you need to start making more sales from your designs! You will learn the basics of Photoshop and how to create click-worthy designs.
10 Videos (1h 2m 51s)
If you enjoyed Ryan's short course, you can visit his site to
sign up for Ryan's Passive Income School for his full course

In this Course:
Design for success

Design For CLICKS
Optimize Thumbnails for CLICKS
Best Selling Styles
Color Profiles
These Common Mistakes!
T-Shirt Design Best Practices
Find New Fonts
How to Install Fonts

Design tools

Pre-made Graphics (+ FREEBIES)
Convert to 300 DPI
Bulk Resize Photos
WordCloud Designs
Merch Resize
Cartoonize Designs
Obama-Style Poster
Logo Analyzer (& SVG Download)
Remove Background

Design tutorials

PHOTOSHOP: Introduction
PHOTOSHOP: Text Designs
PHOTOSHOP: Distressed Effect
PHOTOSHOP: Curved Text Tutorial
CANVA: Introduction
CANVA: Top Fonts
PHOTOPEA: Introduction
TUTORIAL: Political Circle Design
TUTORIAL: Clipping Mask (Overlay)
TUTORIAL: Adjust Hue (Change Color)
TUTORIAL: Create Your Own Sunset
TUTORIAL: All-Over Print
TUTORIAL: Flag w/ Vertical Text

Helpful extras

Automate & Scale DESIGNS
Design Session #1
FREE Static Mockup Generator
Mockups for Thumbnails & Ads
Retail vs Online Products
Gym T-Shirts (w/ HIDDEN DESIGNS That Show When You Sweat)
"My Print on Demand graphic design has improved a lot from what I learned in this course. Thanks Ryan"
"Man, great info and simple to understand. Etsy shop has already made a sale!"
Become a Masters Academy
instructor
Help POD merchants by sharing your existing or newly created course preview.
Drive traffic to your courses and channel after the course ends. Submit your application today!
A team member will schedule a call and explain the quick onboarding form.
Become an Instructor